A Peek at Jacquelyn Edna Pang's Experimental Home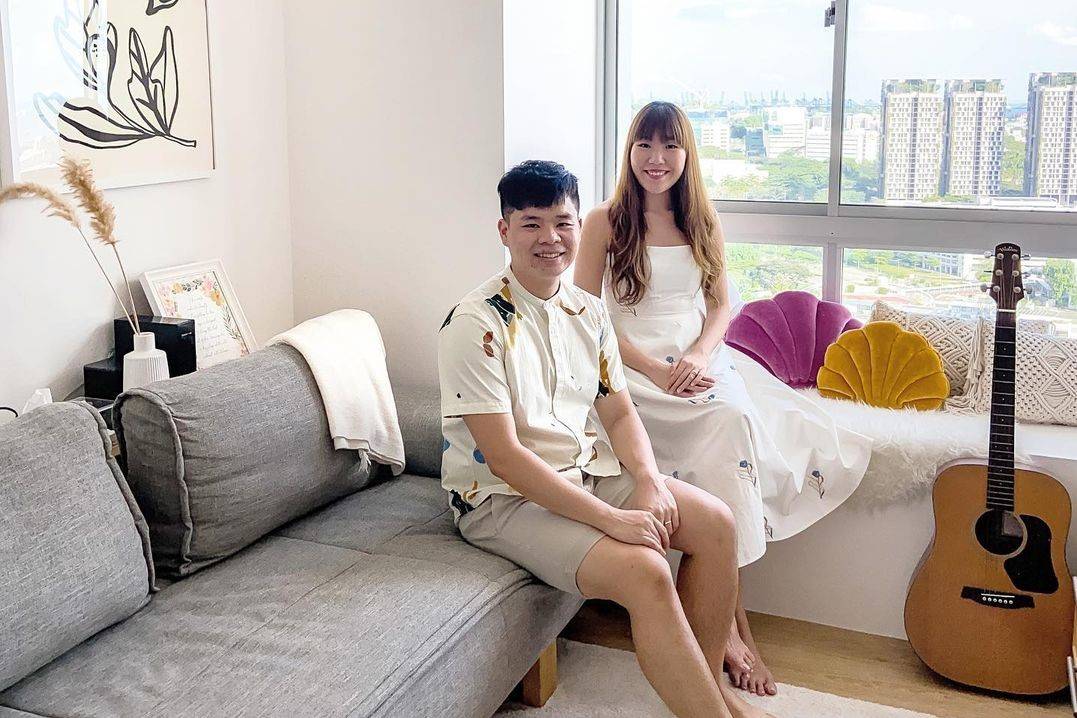 Jacquelyn and Jayden in their three-room flat at Clementi.
Building a home from the blank slate of a new house can be a massive, hectic task to undertake alone. But it was exactly what Jacquelyn Edna Pang and her husband, Jayden, did. Despite having no training in interior design, the duo decided to make over their first flat from scratch with only the help of a contractor — and managed to turn the notoriously taxing feat of renovation into an enjoyable one in the midst of it all.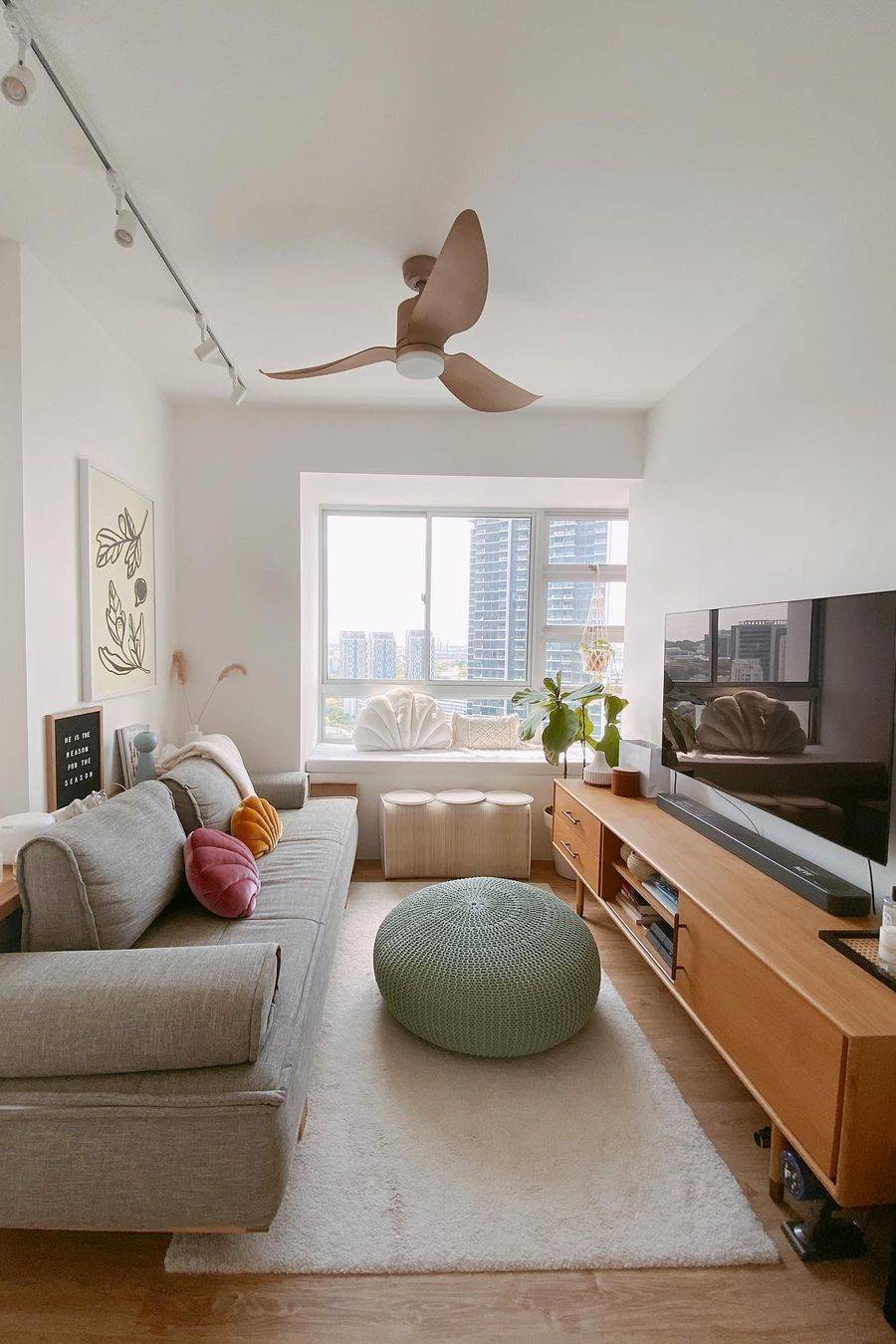 The couple decided to turn one of their flat's bedrooms into the living room by knocking down its surrounding walls.
For Jacquelyn, having fun was a matter of shaking off the fixation on creating a perfect home. Instead, she and her husband chose to experiment with their design ideas. "We wanted our first home to be a place where we embrace errors and learn as much as we can to avoid the same mistakes for our second home," she says. "Adopting an experimental mindset made the renovation process and maintenance of the house more fun because decision-making can be lighter and bolder. Things need not be perfect as long as it serves our needs."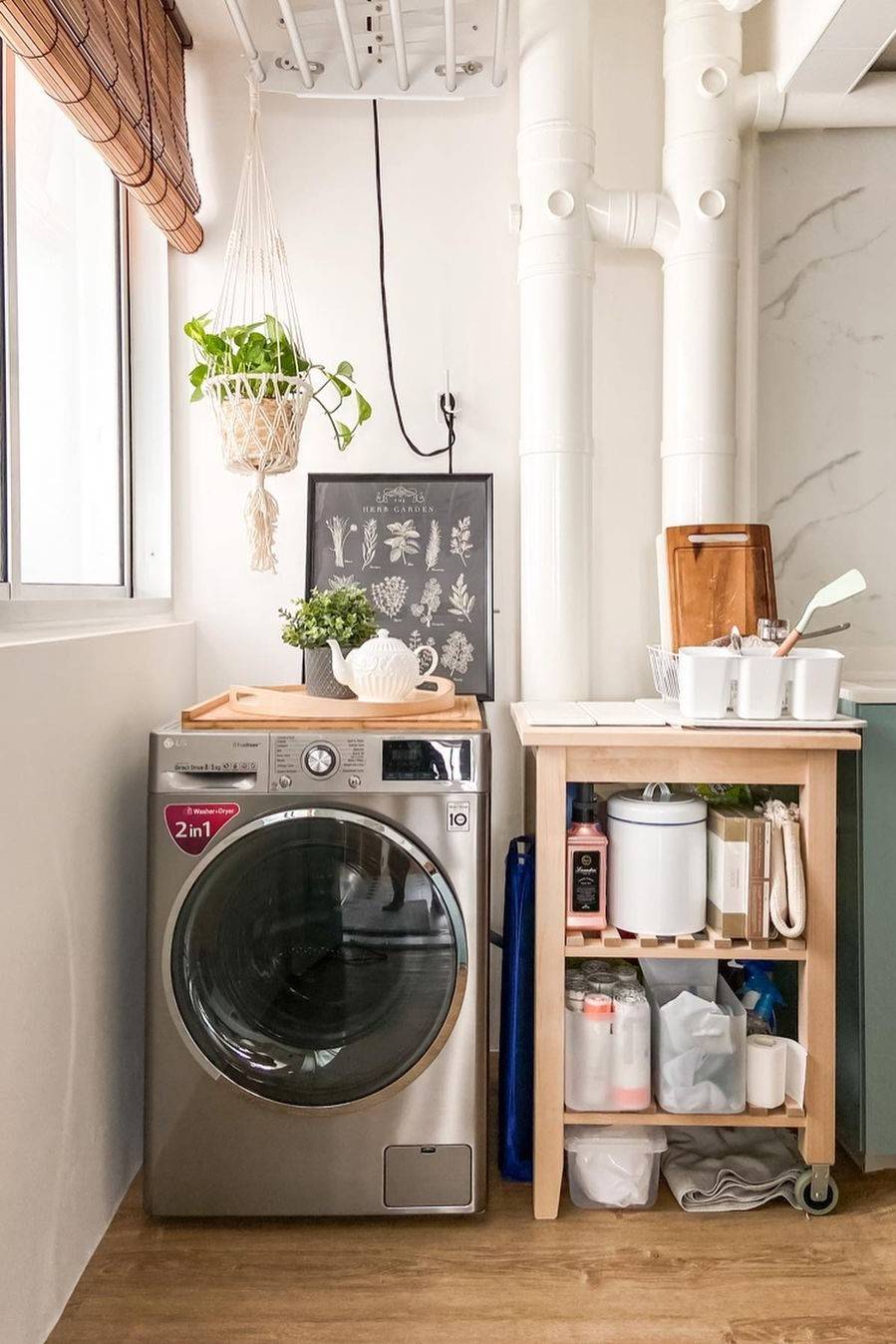 The laundry area was formed by removing the partition between the yard and kitchen, creating a bright and airy shared space.
One year on, Jacquelyn has built a cosy abode that is constantly evolving. From the recent installation of curtains to create a more conducive work-from-home setting, to the wallpapers they are still debating putting up, adjustments in her home are an ongoing process influenced by practical insights. We speak to Jacquelyn about her playful approach to designing her home, the lessons she's learnt, and her tips for fellow homeowners.
You mentioned that making your flat appear more spacious was a key challenge, especially because of its three-room configuration and the previous owner's installations. How did being experimental help you transform your house into the bright and clean space it is today?
The best part about taking an experimental approach is that it opened our hearts and minds to exploring unconventional methods to resolve issues, instead of being fixated on a certain way. One area we wanted to make more spacious in our house was the common bathroom area, so we decided to have it open concept.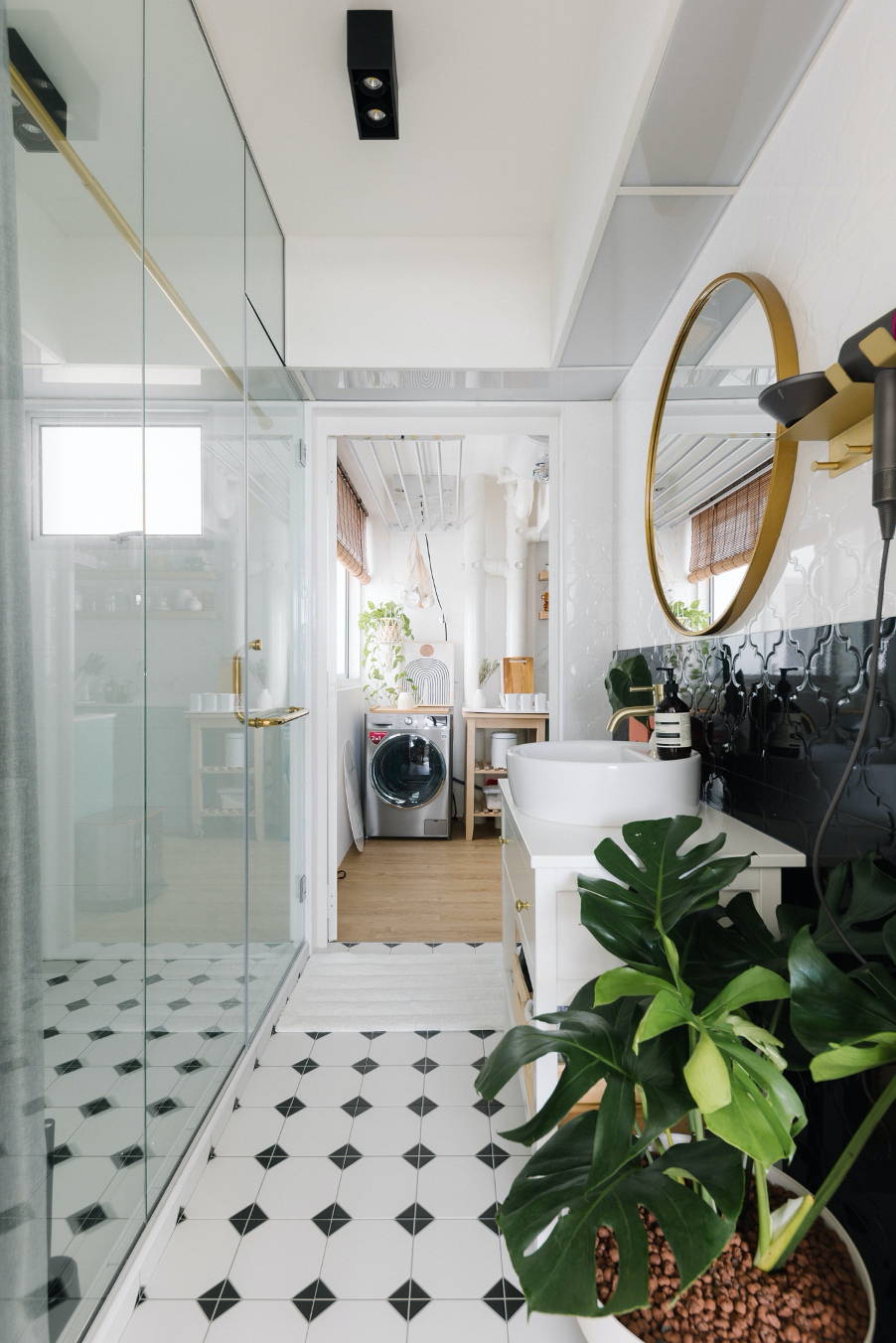 The guest bathroom was the part of the house that drove Jacquelyn to purchase her flat within a night. She loved the fact that it was accessible by both the kitchen and corridor, which allowed it to be transformed into a spacious area featuring both an open-concept vanity and shower. Curtains were, however, also installed at the shower area to cater to the privacy of guests.
But as our guests use this bathroom more than us, privacy was an issue, especially since we host a lot! We initially thought of installing full-height frosted glass panels, but we were worried that the shower area would still look too compact. So, we toyed with the idea of having a clear glass panel with shower curtains. This way, we wouldn't have to compromise on our open-concept bathroom and can still attain privacy for our guests. Till today, this is one of the best experiments we've done for our house.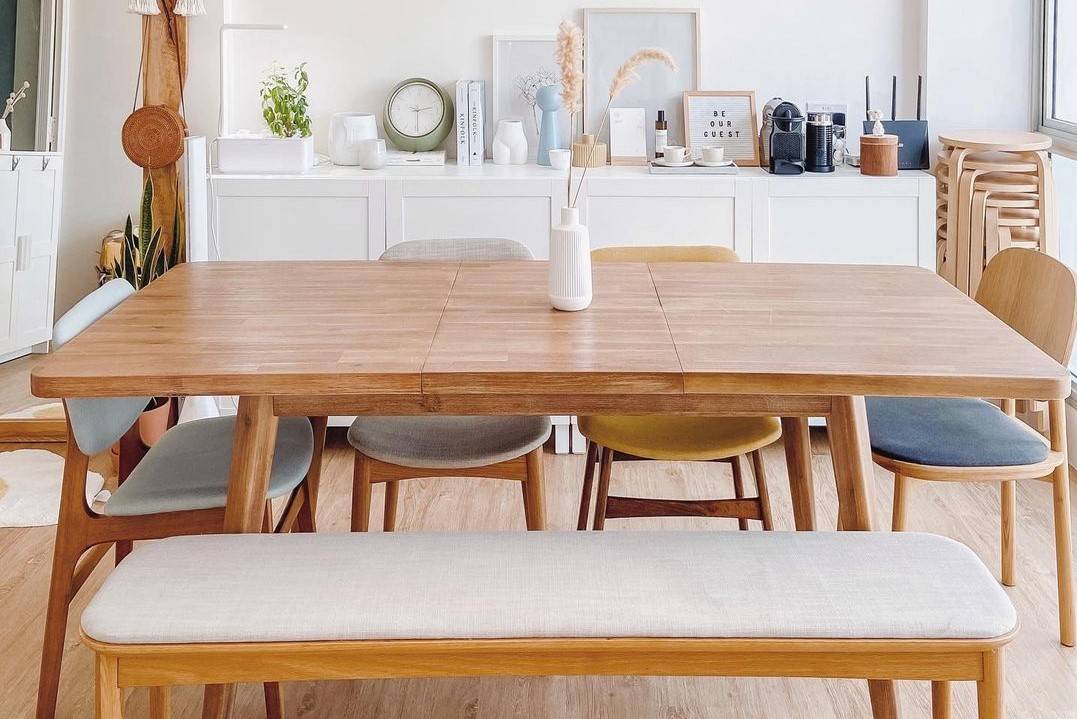 The dining area doubles up as a workspace for Jacquelyn and Jayden. They wanted to install cabinets as a sideboard here, but found them too expensive for their budget. While they might not be as durable, Jacquelyn opted for IKEA cabinets eventually as they "serve their purpose as storage cabinets, are aesthetically pleasing, and cost around half of custom-made cabinets."  
In the course of being experimental, have you and your husband ever had conflicting design ideas? How did you work through them?
Thankfully, we both share the same taste and thoughts, and we're willing to try out each other's ideas as long as it makes sense, so we don't have many disagreements! We make sure to explain our thought processes and preferences to each other, which helps us come to a common consensus. Since this is an experimental home, we're also more giving in implementing each other's ideas.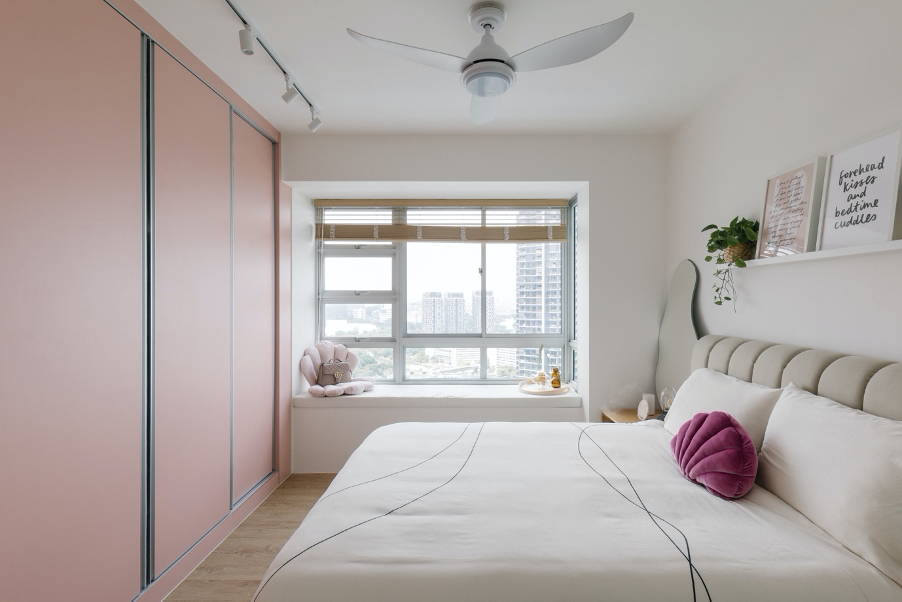 The pink wardrobe also has another functions — it acts as a separation between the master bedroom and guest bedroom after the wall between was knocked down to increase the size of the former.  
For example, my husband chose a mauve pink colour for the wardrobe in our master bedroom because he said it would be a nice shade to wake up to. I would have gone for white, but in the spirit of experimentation, I didn't mind a different look. It's definitely important to let your partner know that your design considers his/her needs for a smoother renovation process!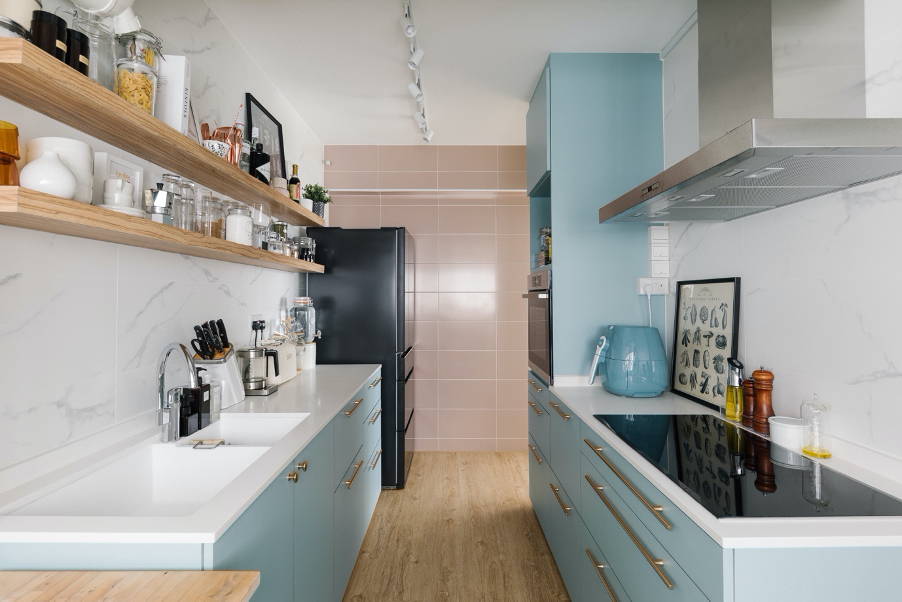 Jacquelyn and Jayden's kitchen. Like the dining room, the kitchen uses vinyl flooring to create a seamless stretch of space between the two areas. But this was an option Jacquelyn was initially skeptical about due to the preference for tile floors among most homeowners. She eventually went ahead with her contractor's assurance — a decision that has worked out great so far!
Looking back on your first year as a homeowner, what has being experimental taught you?
Being experimental has done much more good than harm to our home. It's made us more flexible in our decision-making and has opened up many opportunities for us to learn about the renovation industry.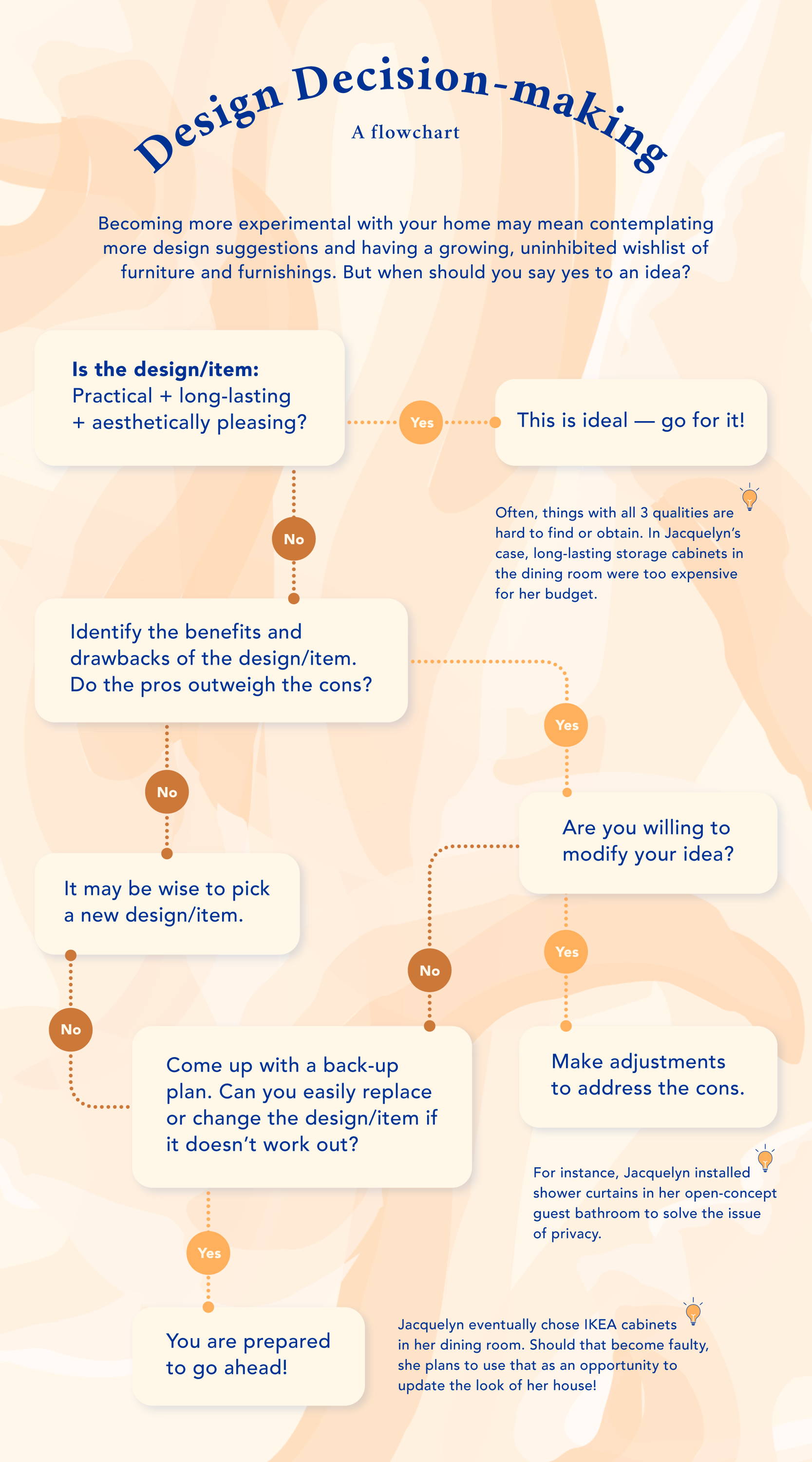 Of course, an experimental home also comes with risks and understanding them can help you make more informed decisions. For example, I purchased items off Taobao without knowing if the quality would be compromised. I told myself that if they came faulty, I could still purchase what I needed from the hardware stores in Singapore. Thankfully, nothing arrived with quality issues, except for a toilet roll holder that was damaged. I did manage to sell it off on Carousell to cover some cost.
Finally, do you have any tips for those who would like to start being more experimental with their homes?
If you're looking to be more experimental, you can start by moving things around the house. A small shift in the direction of your couch or dining table can look like you've made a big change.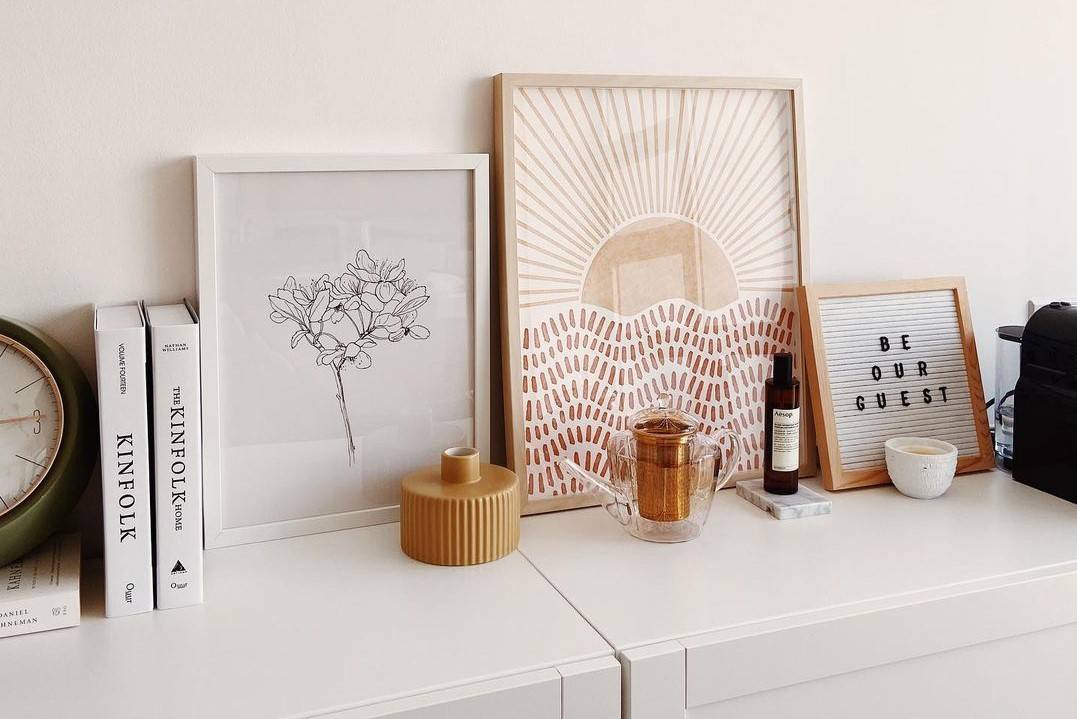 A closer look at the photo frames in the dining room.
Alternatively, if you're thinking of decorating, hang a large painting or clusters of photographs on the wall to help improve the overall look. Pinterest is my go-to app for inspiration to update the house. If you intend to make larger changes that require bigger purchases, make sure to do your research before committing. Once you've gathered your information, you can weigh your pros and cons and then decide if this is an experiment you wish to undertake. It's a very fun and exciting process!
---
All images courtesy of Jacquelyn. Follow her home journey on Instagram.
---
1. Lines Bamboo Duvet Cover
"I like the Lines Duvet Cover because it has a soft line across the bedding. This draws attention to the bed and makes it the focal point of the room."
2. Build Your Own Bamboo Sheet Set
"Neutral-colored sheets like Vanilla Mist can bring out a soft and airy look, as opposed to pure white or darker tone bedding which may look too harsh!" Jacquelyn opted for Vanilla Mist pillowcases, a Vanilla Mist duvet, and a Warm Sand fitted sheet.