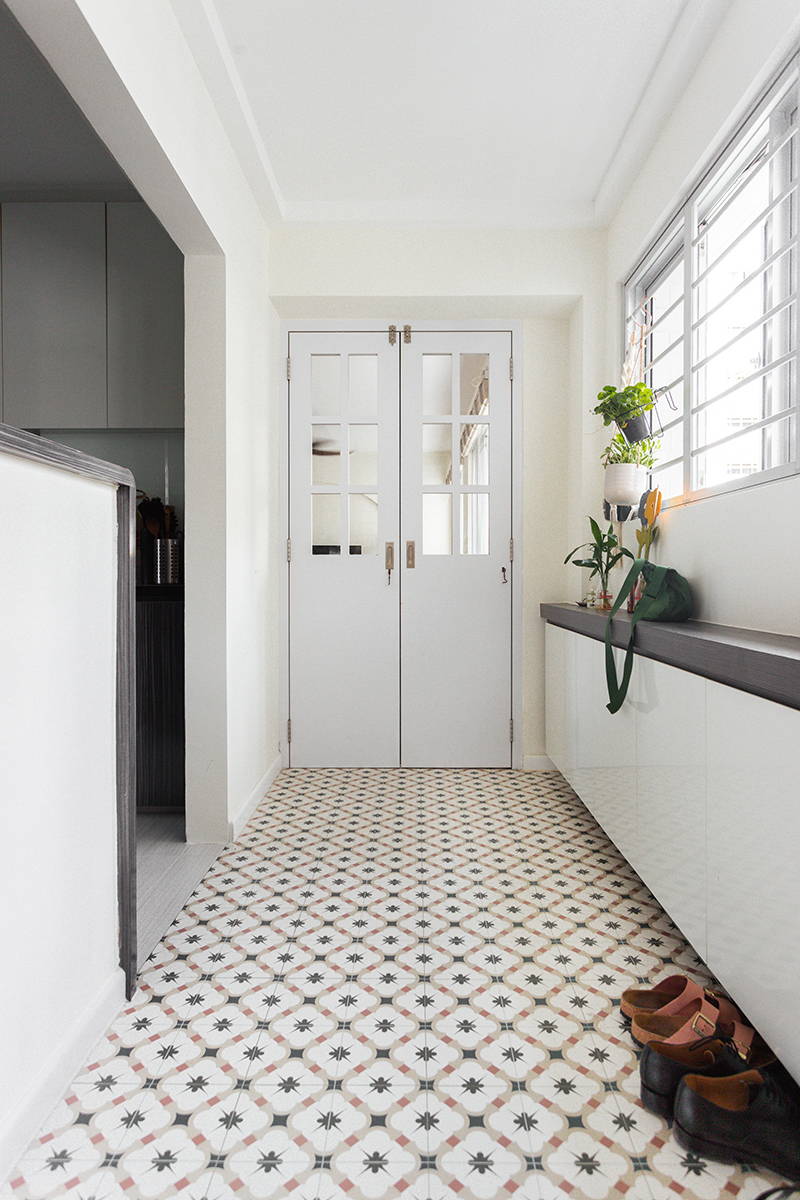 The view from the front door.
When we first found Our Whampoa House on Instagram, we were taken by the unusual layout of the home. The front door opens into a long, window-flanked hallway. On the left, closed off from the rest of the home, lies the kitchen — so large that it has an island in the middle of it.
This unorthodox layout was what eventually sold homeowners E and H on the unit. They particularly liked the size of the kitchen and that it could be closed off from the rest of the home, but their reason for preferring a separate kitchen was somewhat unusual…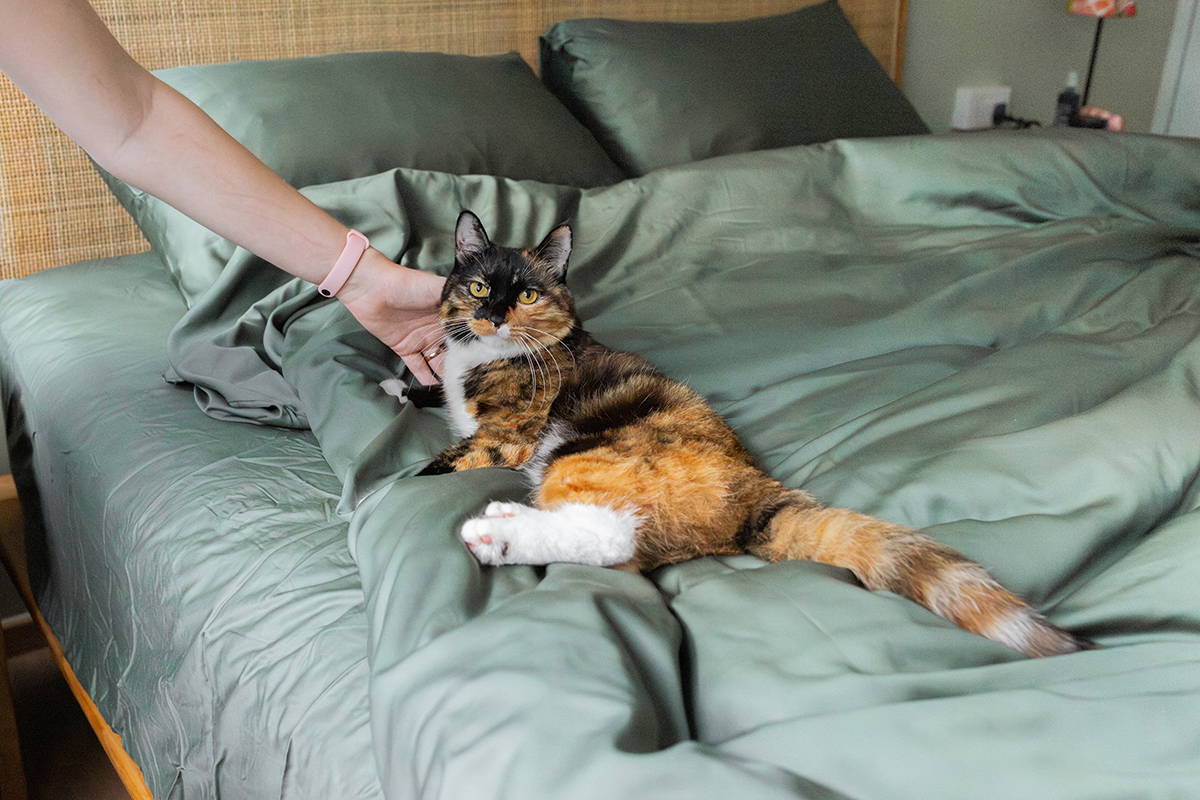 Meet: Fig, E and H's adopted cat who is so loved that many decisions — including the eventual purchase of this home — were made around her. Once a kitten on the streets of Beijing, Fig is an almost 4-year-old calico who originally even had her own room in this Whampoa home! That is, until her humans realised she preferred company while lounging. These days, Fig happily shares her room with E, who uses the space as a home office.
Curious about how this home came together, we visited E and H and spoke to them about their journey, which we soon learned involved a long-distance relationship, living in a series of rentals, and even planning for future renovations.
E's family home in the UK. E and H first met in the UK over 10 years ago.
E and H, please tell us more about yourselves. How did you meet?

E grew up in the UK and H in Singapore. We first met at university in the UK over a decade ago — we were in the same year group and course so we first got to know each other whilst working on group presentations and walking to lectures together after late nights in the library.
After graduation, we did long distance for 2.5 years years  before E finally moved to Singapore in 2018. We bought a 30 year-old, 5 room resale HDB in Whampoa in late 2022 and moved in during March 2023.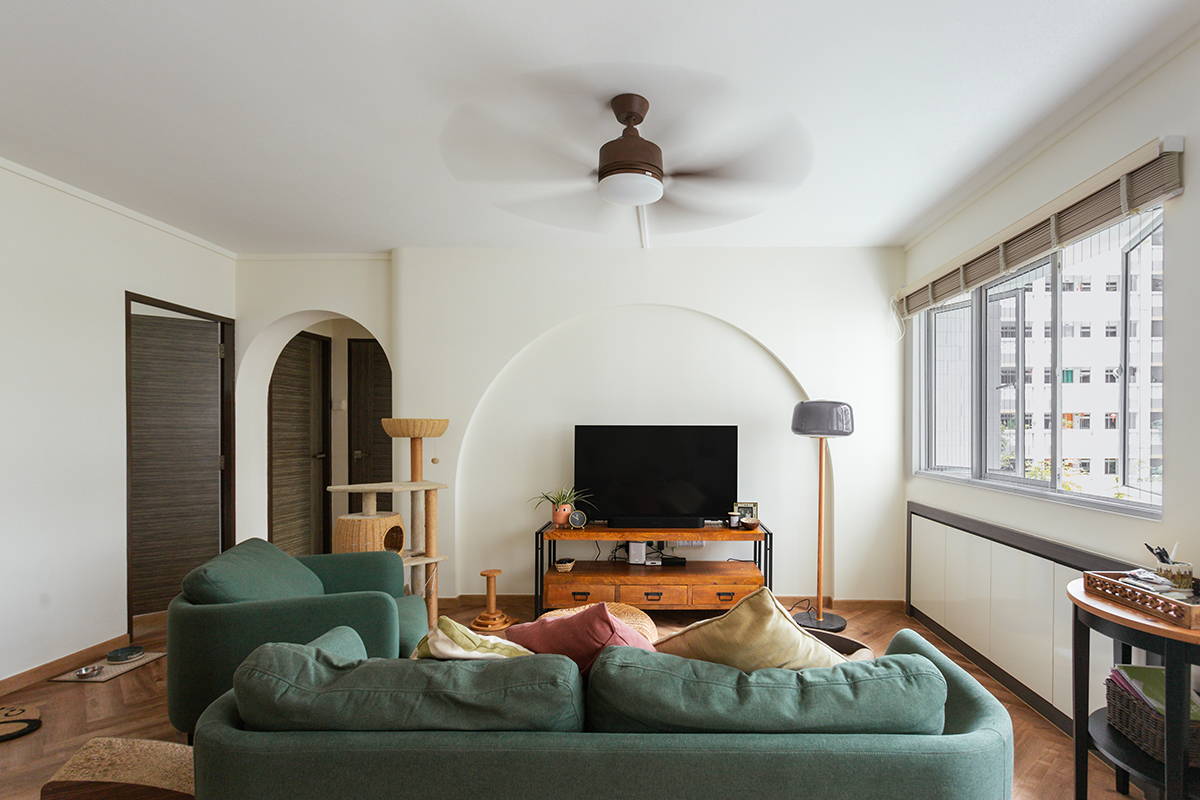 This Whampoa flat is E and H's fourth home together — they have been renting since 2018 and bought this place in 2022.
Tell us about the homes you shared between 2018 and 2023.

E: We first lived in H's family home for a few months while we were looking for apartments in 2018. That was my first experience of living in an HDB. Our first apartment was really, really small. It was basically a studio flat, but they built a wall in between the bedroom and the main living area. But for me, the novelty of living somewhere with a pool was so exciting!
From 2019 to mid 2021, H was posted to Beijing, so we spent a year and a half there, which is where we adopted Fig. When we moved back to Singapore, we rented a brand new condo right by the MRT in Tanah Merah. But despite me saying at the beginning that living somewhere with a pool was exciting, we realised we didn't really use the facilities enough to justify the rent premium for living somewhere with all these facilities. So when it came to finding somewhere to buy, we were set quite early on that we were quite happy to live in an HDB.
E and H were looking for a few things when buying a home,
one of which was having a large, separate kitchen to keep the cat off the stovetop.
How did you find this home?

We were quite lucky. In total, we looked at around 8 HDB units. We had previously lived in the East and really liked the East Coast and Joo Chiat area, so we initially focused our search on properties in the east. However, we decided to expand our search after realising the units available in the areas we initially investigated weren't quite right for us. There were a couple of places we saw that had just finished their MOP (minimum occupation period). They were a bit smaller but obviously more modern. We just kept thinking, this would be great to live in for 5 to 10 years, but could we imagine living here for 25+ years?
Once we saw this one with its layout — particularly the large kitchen — we quite instinctively knew it was "the one". The market was moving so quickly, and we had decided to do without an agent, so we had to make a decision super quickly. H even made the initial offer over the phone while we were on a bus shortly after we viewed the flat!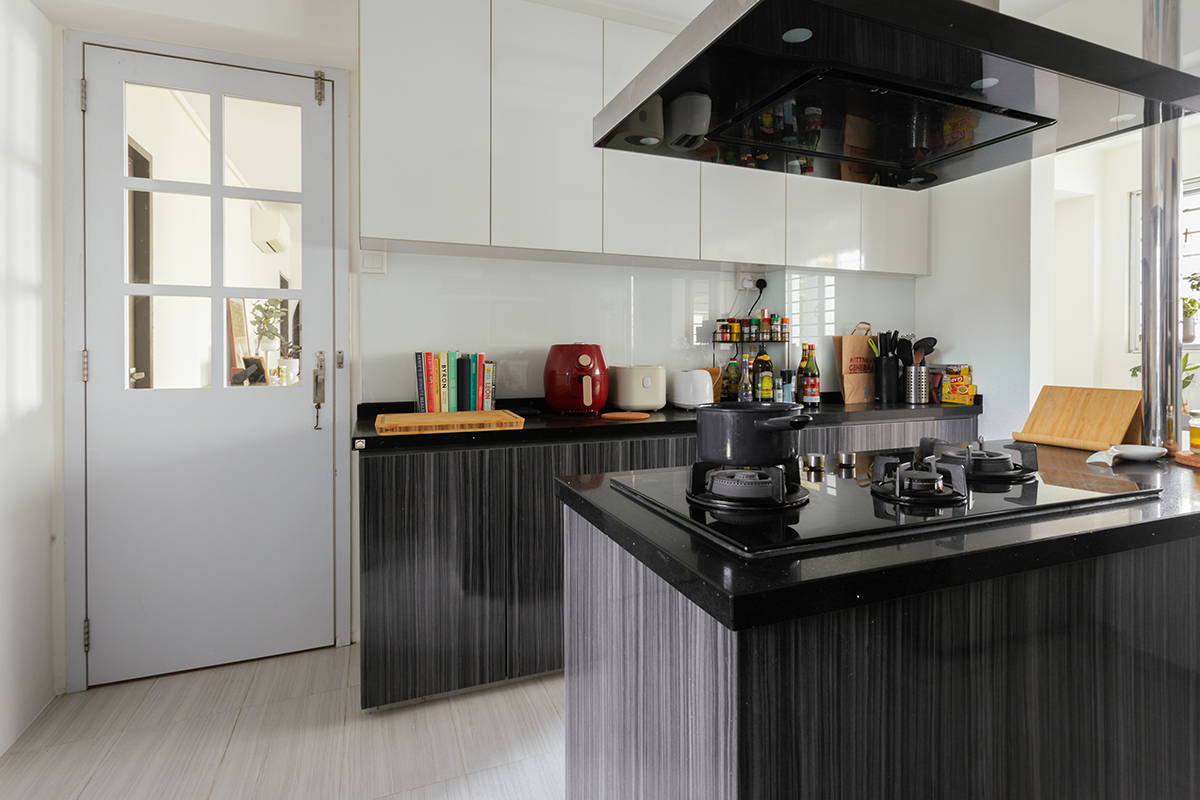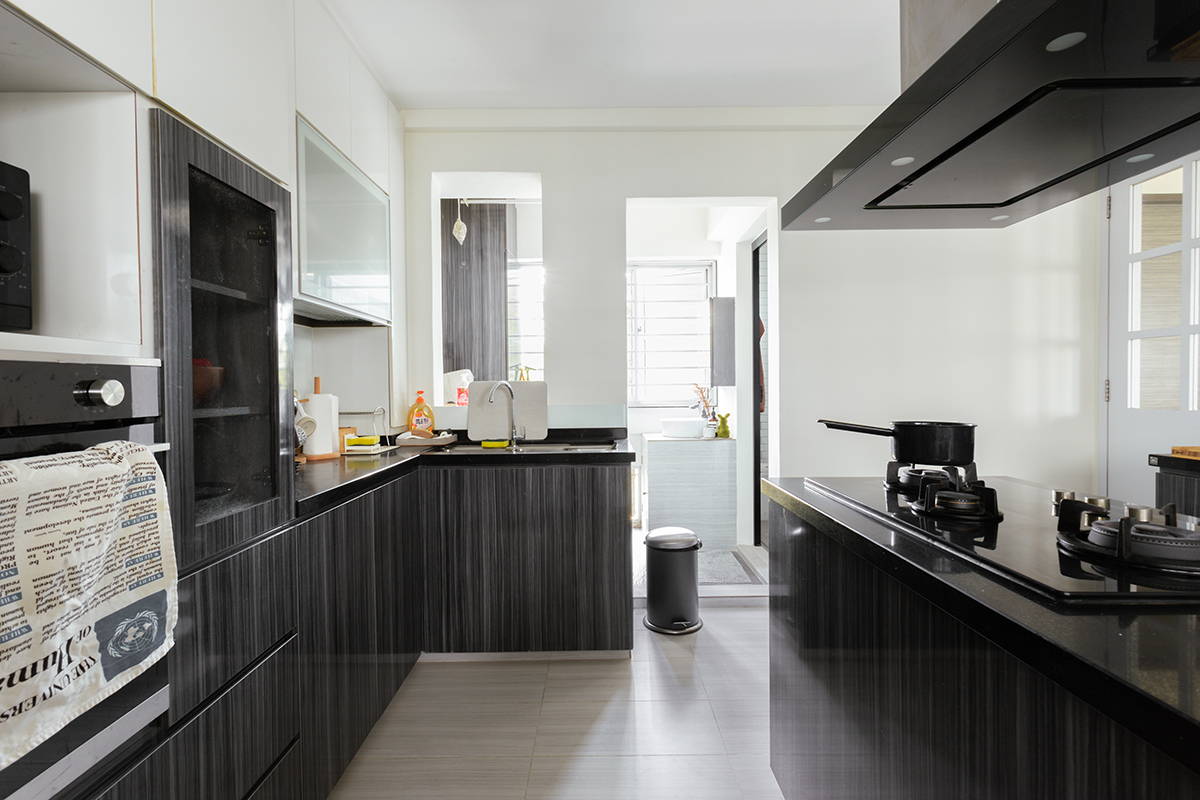 The large kitchen that won over E and H. Adopting a long-haul mindset, the couple decided not to overhaul the kitchen before moving in and instead have plans to renovate in a few years.
It's quite unusual in Singapore to buy your first home as your forever home.

E: I think it's partially because we have lived together in different places, so we had a good idea of what was important to us and what we want in a more permanent home. Both of us have also only lived in one home growing up, and I think it's nice knowing that if we go overseas for short periods again, this is where we will come back to.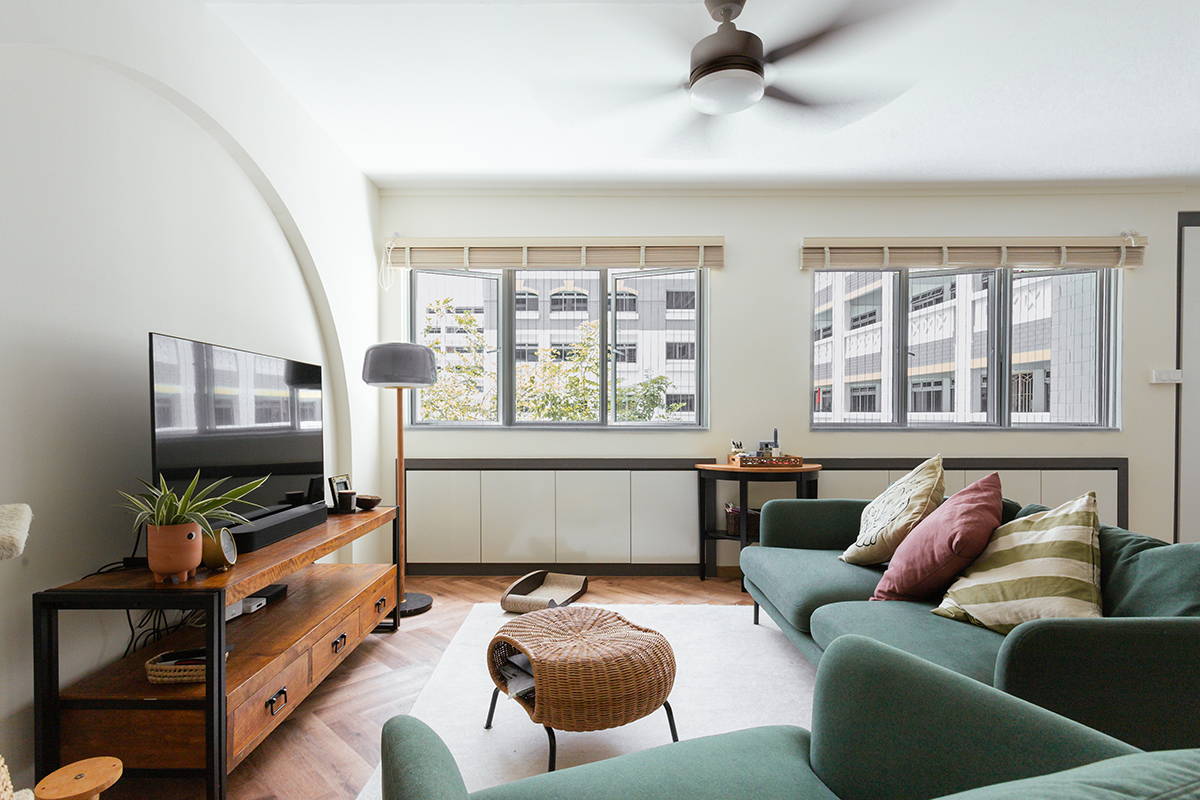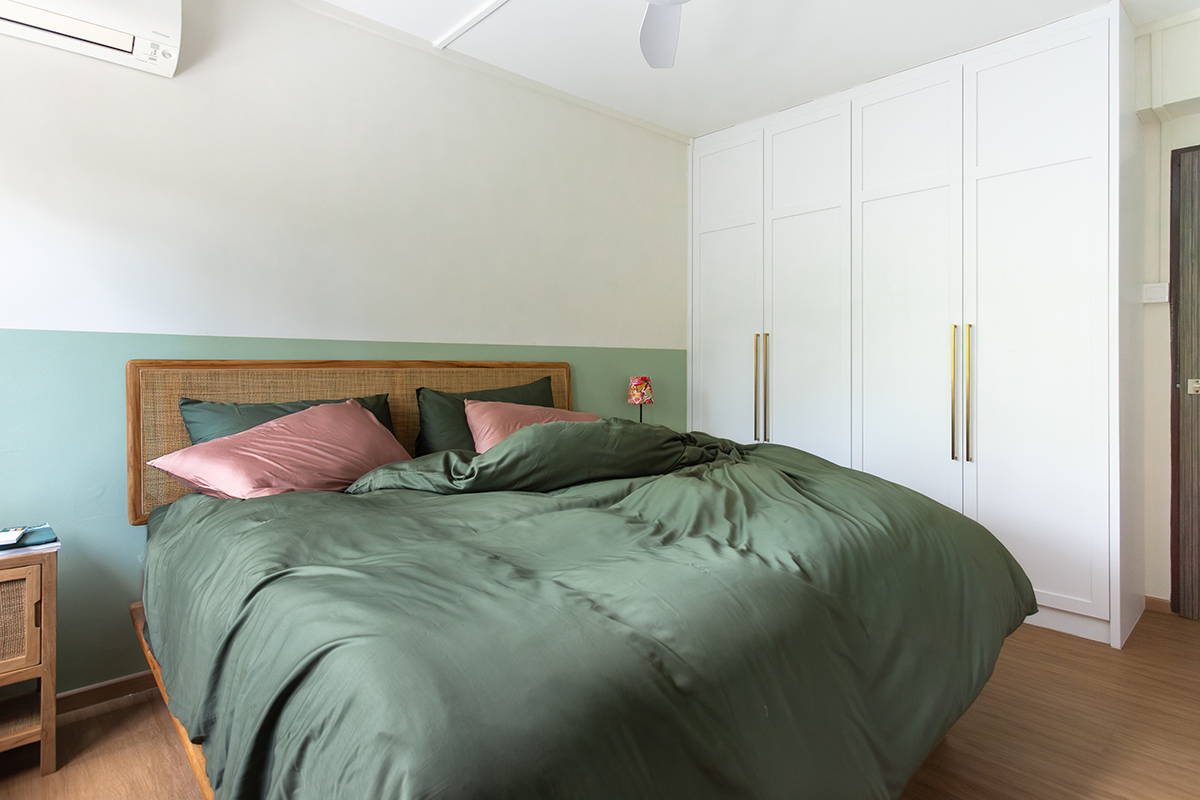 How would you describe the style of your home?

We didn't have a clear theme in mind to begin with. One of the IDs we met described our design style as "European Farmhouse", though we're not sure what this really means or if it applies to our final style! Friends and contractors have also said that it looks quite "British" or even "American". I think we'd probably prefer to say that our design approach was more defined by a number of strong preferences for particular elements: wooden floors in the living room and bedrooms, a desire for a limited number of built-ins, and the ability to showcase references to the places we have lived and travelled to.
How did your design preferences change from when you started to the current look?

An initial render of what E and H expected their home to look like.
Our initial renders were very minimalist and quite neutral, but our final design has a bit more colour, so things like a green sofa with patterned cushions, a half feature wall in the master bedroom, a colourful picture wall in E's study, and floral blinds for the guest room. This desire for colour was probably a response to our 5 years of living in white wall rental apartments! Some of these changes came about as we found furniture and decorations that we liked and wanted to include, whilst others were a result of the hours that E spent scouring Pinterest and Instagram!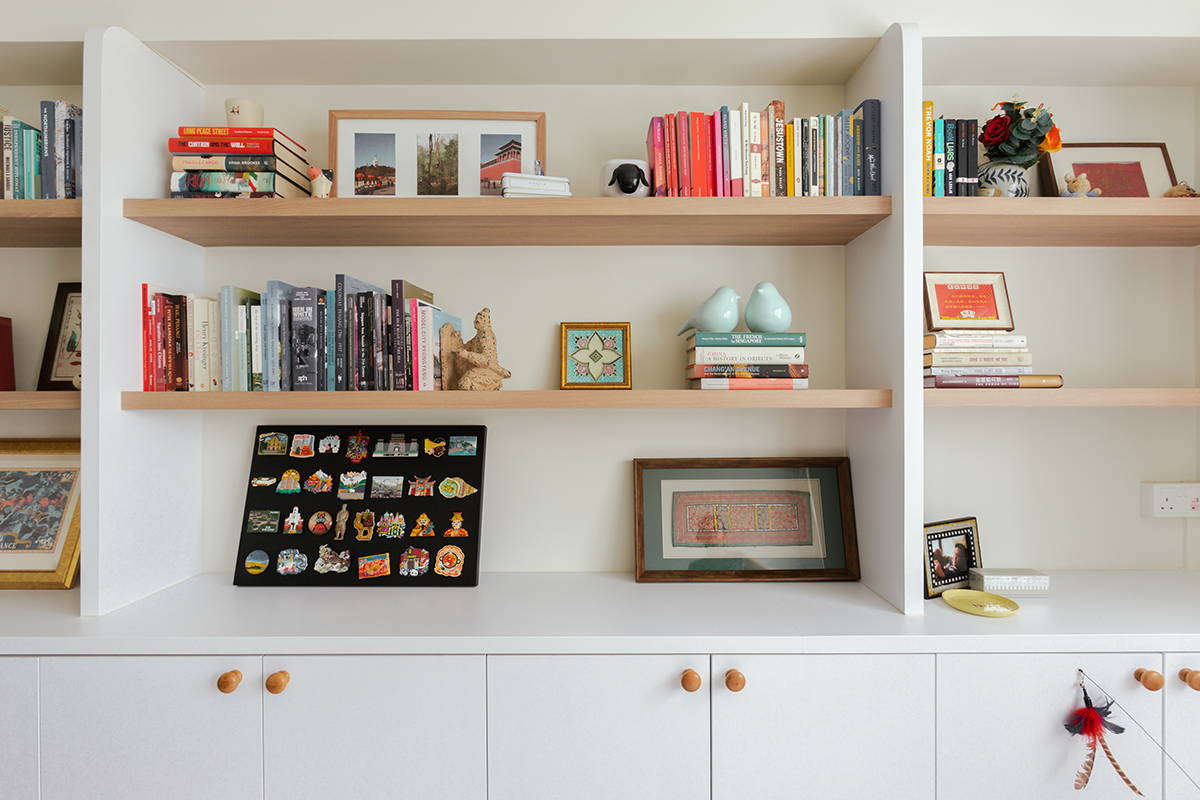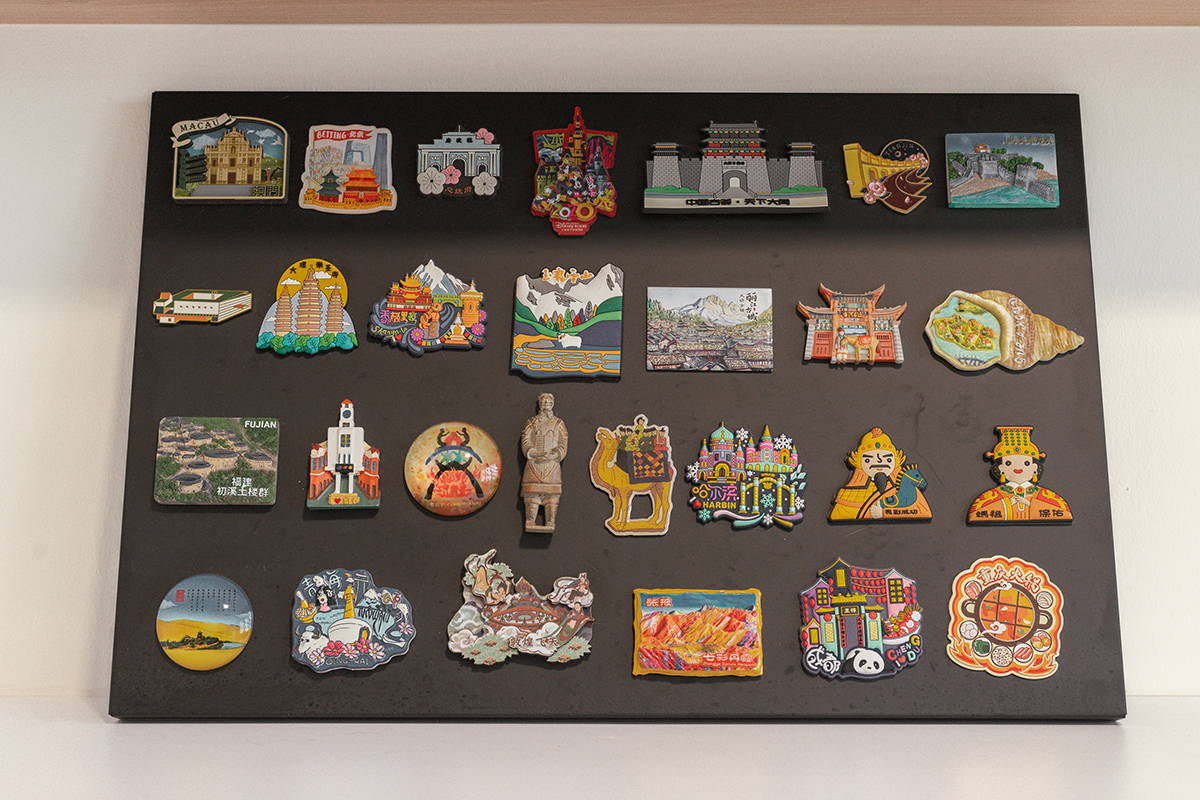 Travel mementos can be found all around the house. Detail: A board of the places the couple visited while living in China can be found in H's study.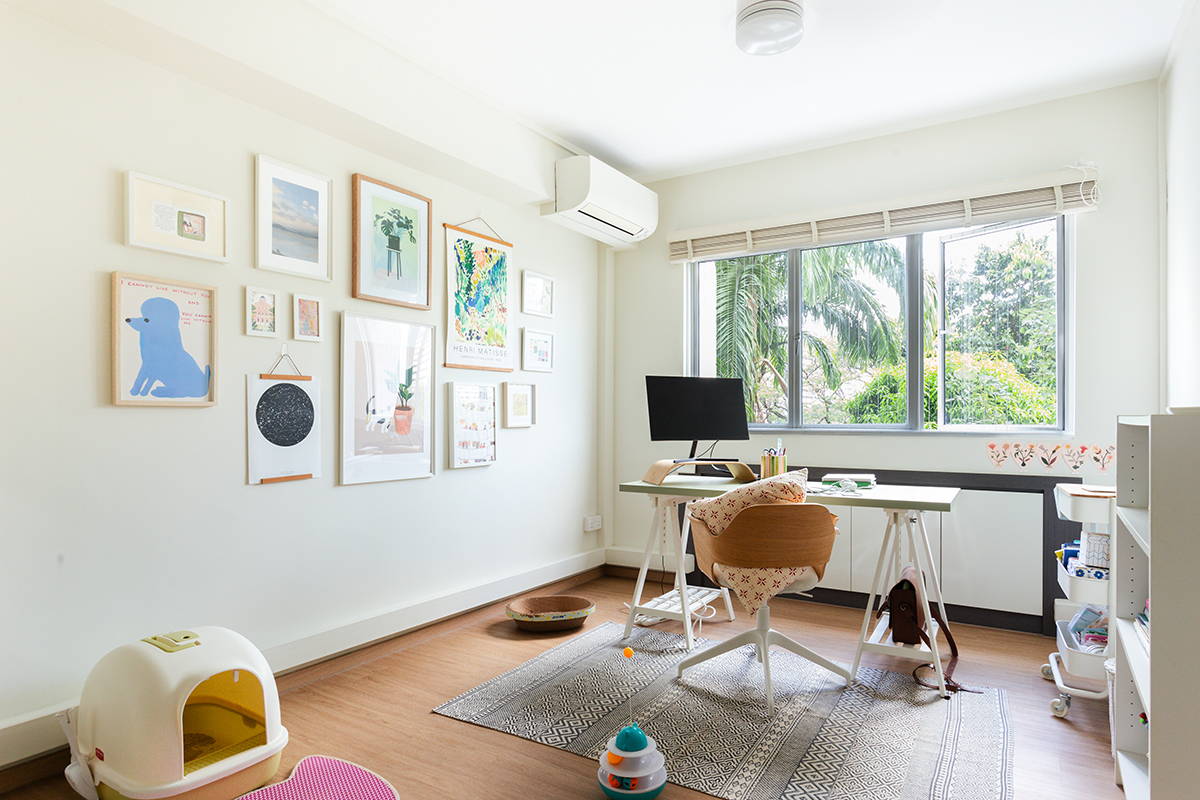 In Fig's room turned E's workspace, a colourful gallery wall takes centrestage.
What design features did you have to give up because of budget or functionality constraints?

One temporary compromise that we made is that we chose not to redo the kitchen at all. We decided this right at the start of our reno process before meeting any IDs. Although the kitchen units aren't necessarily our style, the previous owners had completely replaced the kitchen only five years ago, and admitted they had barely used the built in oven. Everything was in good condition and still works super well!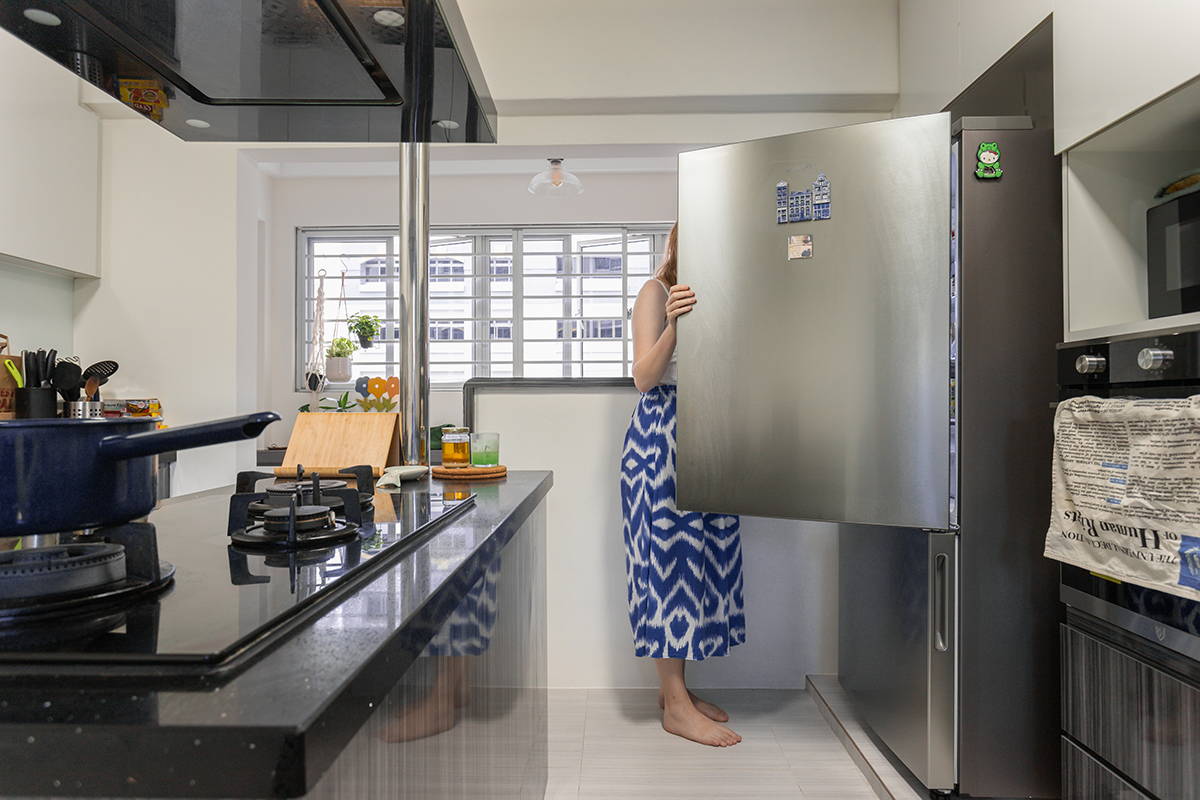 It seemed a waste to rush in to replacing everything — this saved us a good amount of money which we could spend on other areas of the renovation, and also gives us time to figure out exactly what we want to do with the space in the future when it eventually needs a refresh. Already we have come up with a few things that we would change, like: the current dish rack is not tall enough to dry wine glasses, and some of the cupboards are a little too high to access. We know at some point in the future we will likely temporarily move out again, so we'll probably redo the kitchen after we get back.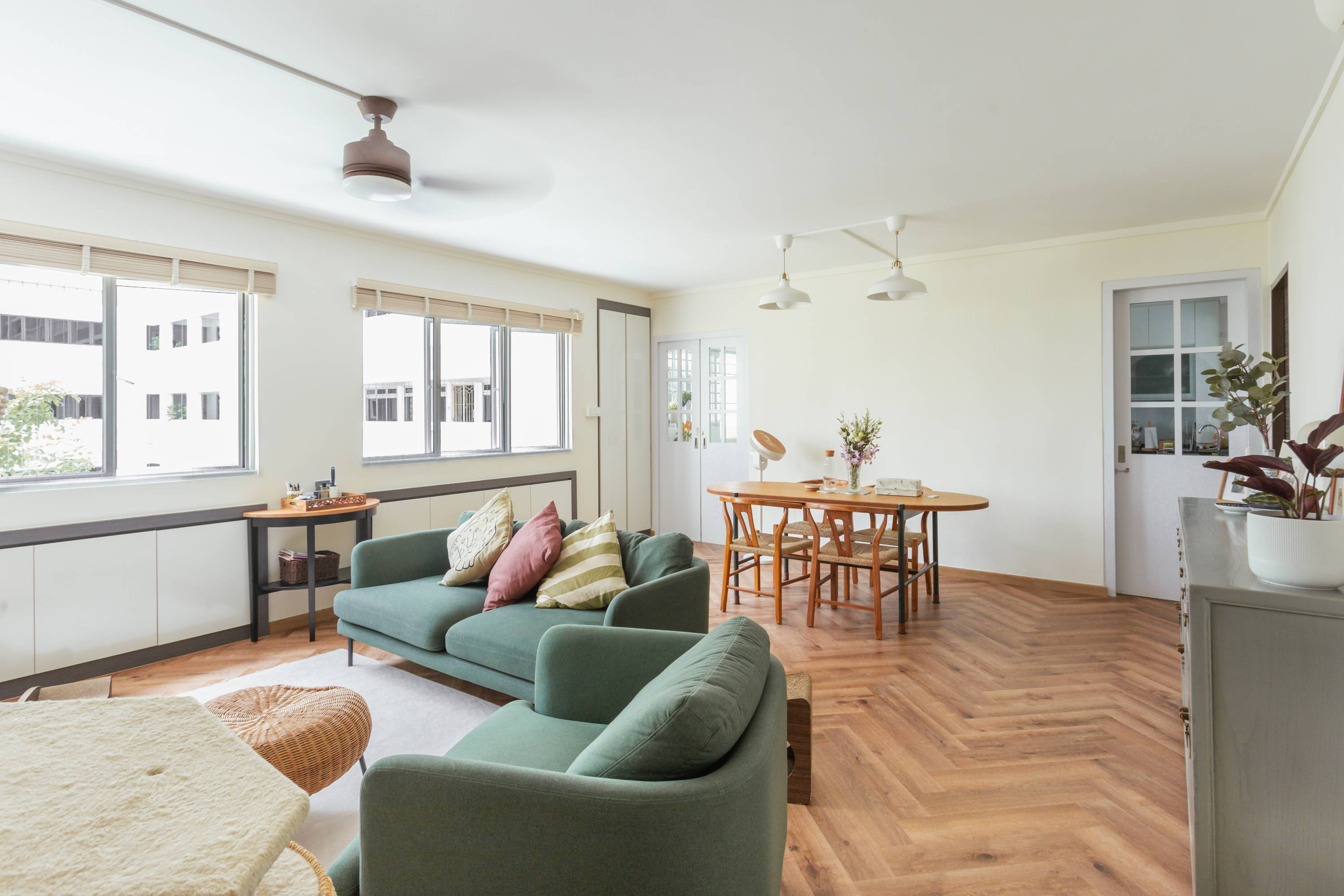 Pictured: the wall separating the kitchen and living room, which E and H decided to keep up.
Quite a few other IDs and friends also encouraged us to knock down the wall between the living room and kitchen, but we're super happy keeping it separate. We cook quite often, and not having the living room smell of the previous night's cooking is not a bad thing! It also means we don't have to worry about Fig climbing on the gas hob or getting too close to main door so we feel more confident leaving her at home when we go out.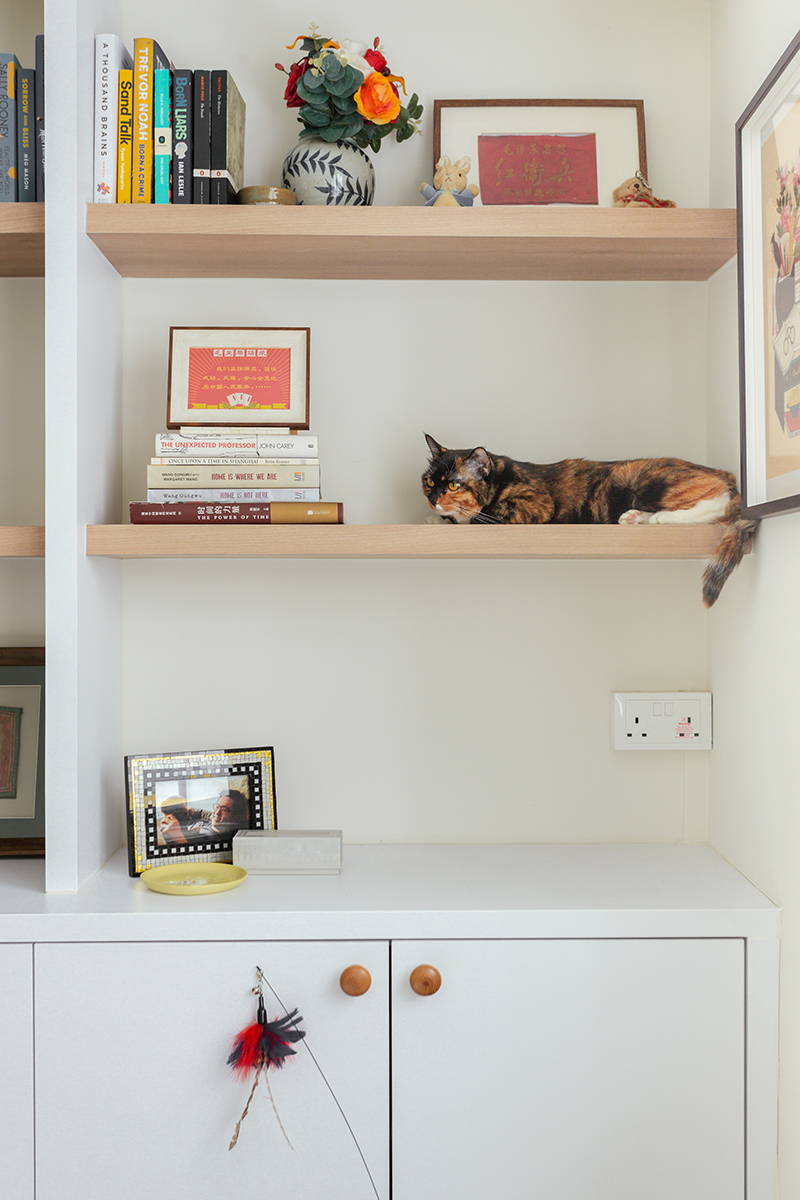 It's quite unusual to think about your reno journey as something you do in parts instead of something you complete before you move in.

E: Actually, reno as complete overhaul was an adjustment for me because a total reno is quite rare in the UK. I think DIY is more common there — my parents bought a house and redid it step by step, room by room. It's been almost 30 years so some rooms have been redone several times, but there's this idea of not doing it once and moving in after.
H and I look forward to other exciting reno projects if our tastes change or if we get more inspiration through places we visit or live in.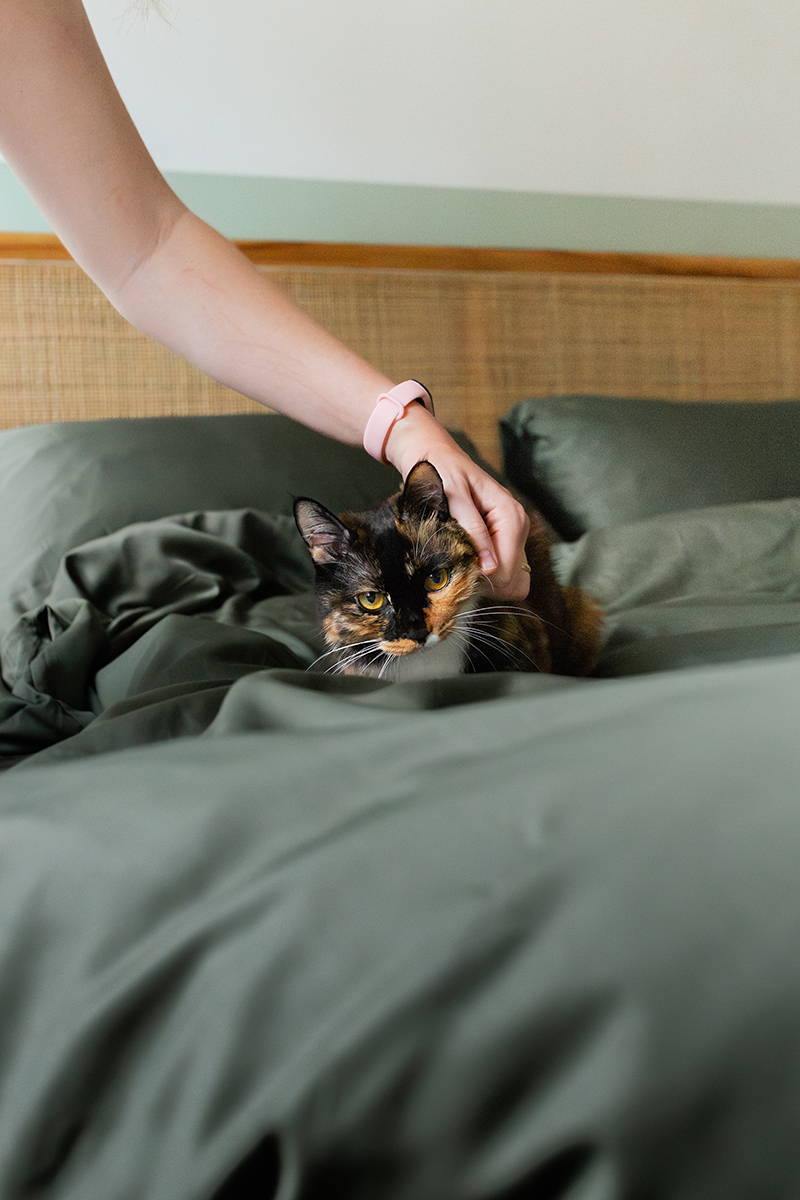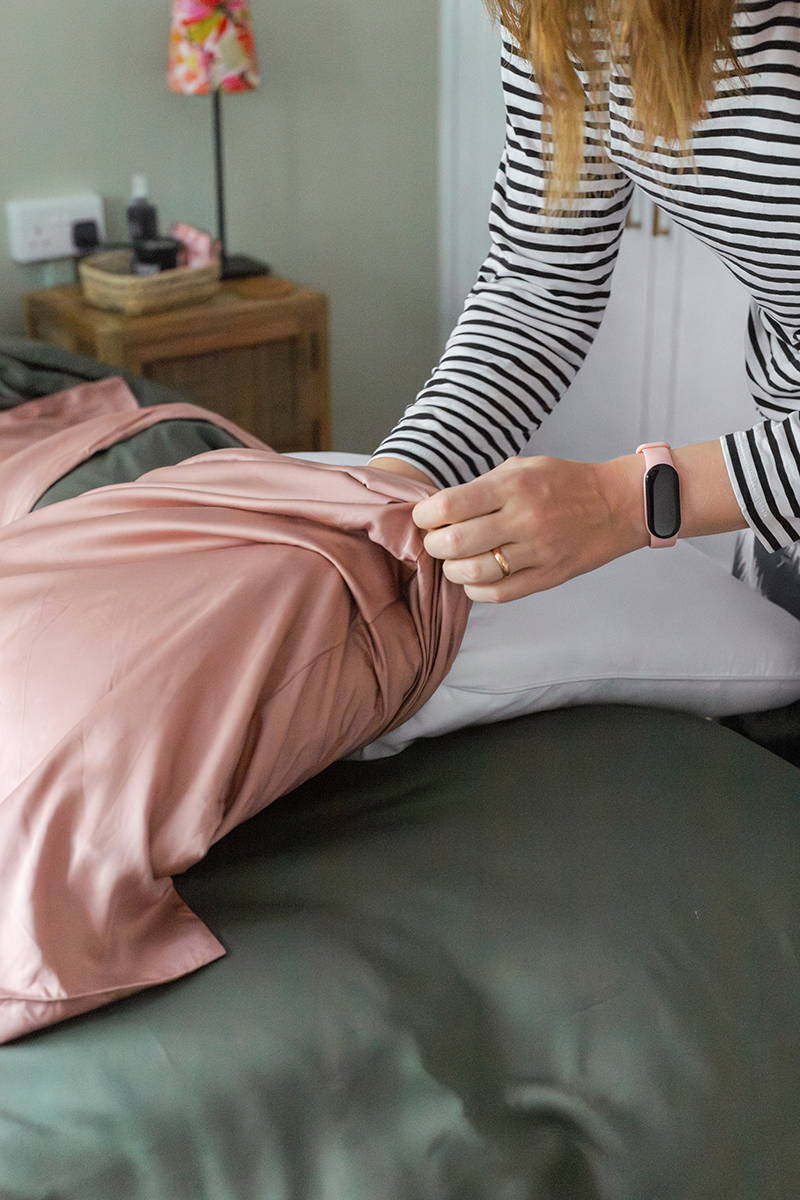 Thank you E and H for welcoming us into your home, and Fig for flash modelling our new Pine Green in Bamboo Sateen (paired with Desert Rose in Bamboo Sateen above)!
You may also find these resources useful: