Designing a Home by Yourself with Jolene Chua and Neo Yi Peng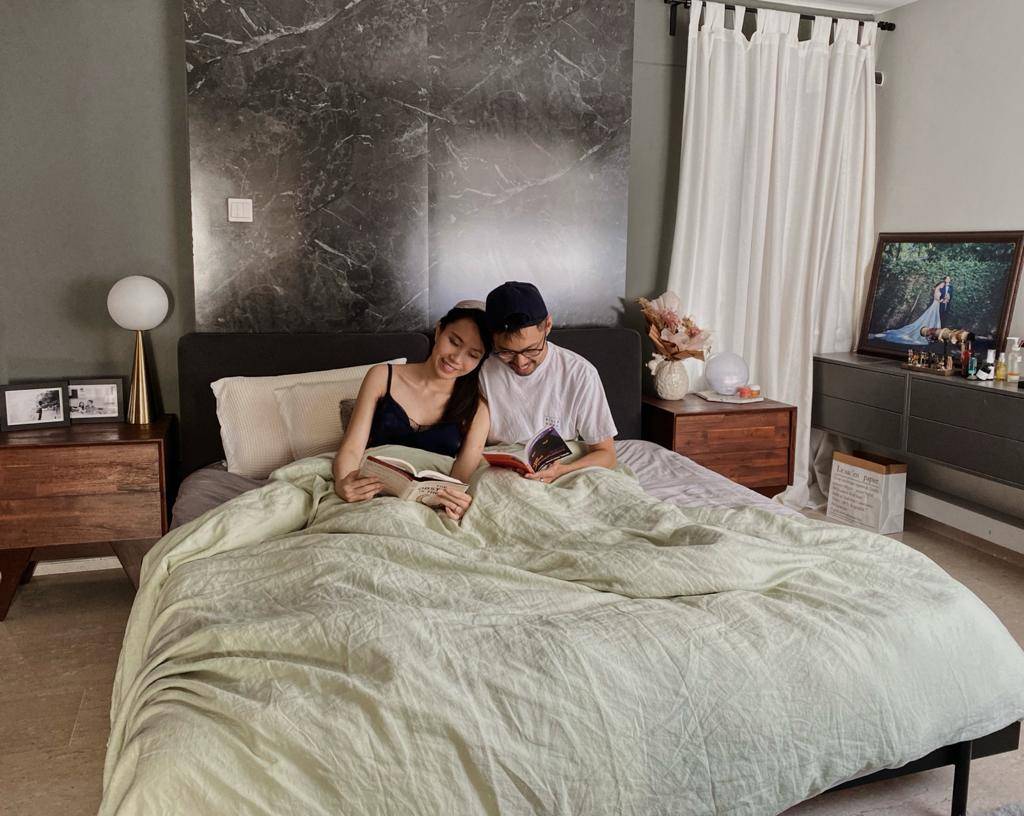 The first time Jolene Chua and Neo Yi Peng applied for a build-to-order (BTO) flat, they were fresh out of university — and unsuccessful in their bid. They continued applying over the next four years, but after 11 unsuccessful attempts, they decided to try a different route. Knowing they wanted to live in Sengkang, near Yi Peng's mum, the couple searched for resale flats and private apartments, eventually finding their current five-room apartment that they have lovingly restored.
Their mid-century modern and bohemian-chic aesthetic has been inspired by their many travels, particularly the old world charm of London and the tropical eclecticism of Bali. Standing by the motto of "live with what you love", Jolene and Yi Peng share what they've learnt in their home design journey.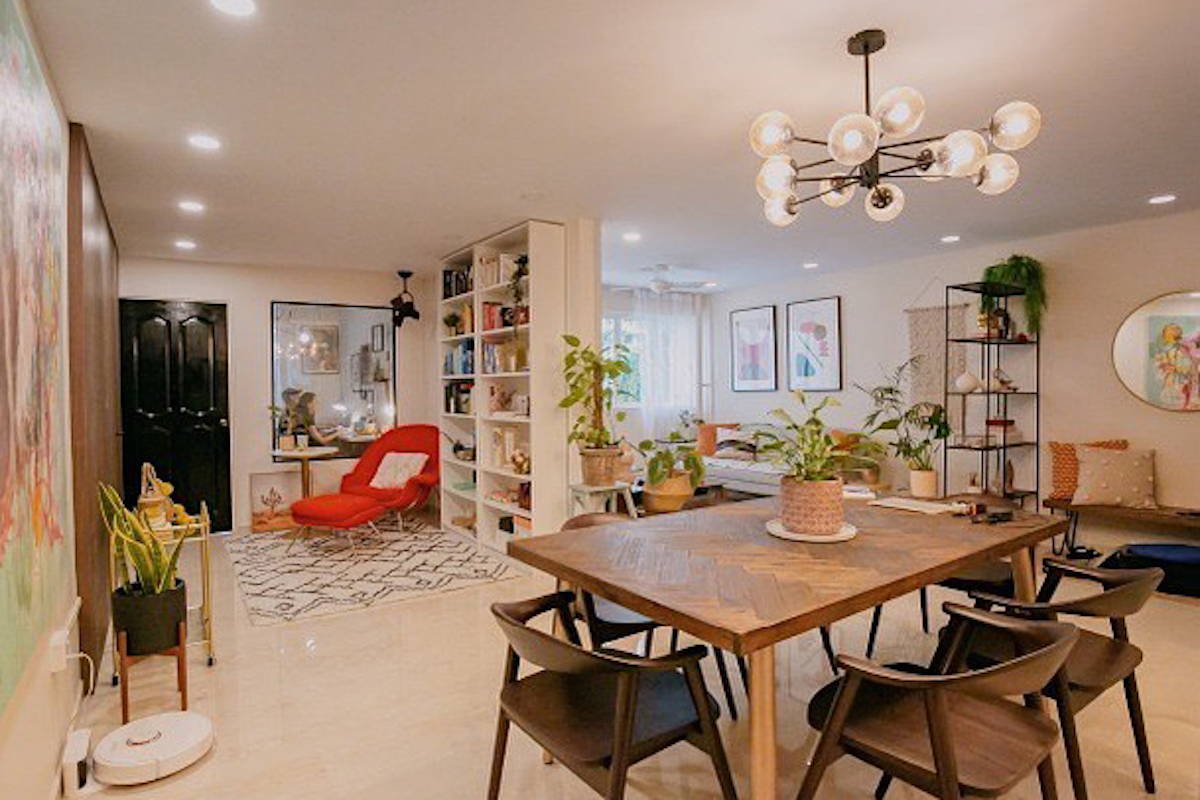 A snapshot of Jolene and Yi Peng's living room. The couple segmented their living room to create functional spaces, such as their reading nook, entryway, and communal TV space. Image c/o Jolene and Yi Peng.
Jolene, tell us a little about your renovation process.
The entire renovation process took us seven months, double the initial time we expected! Although the space planning and designing was as fun as we imagined, the actual execution was definitely challenging, especially as we took up the role of interior designers ourselves.
For example, we had kept the existing marble floor tiles but decided to hack a few walls in our home. After hacking the walls, we had to tile the flooring beneath. Because of that, we had to hunt for a similar marble tile so that the transition wouldn't look awkward. As we ran around finding the "perfect" match for our tiles, our tiler told us the next piece of bad news: the floors of both bedrooms weren't level.
The entire process was like endless fire-fighting — which we just tackled, one problem at a time. It was definitely an arduous process, but looking back, immensely gratifying overall, especially as we saw our work slowly come to fruition.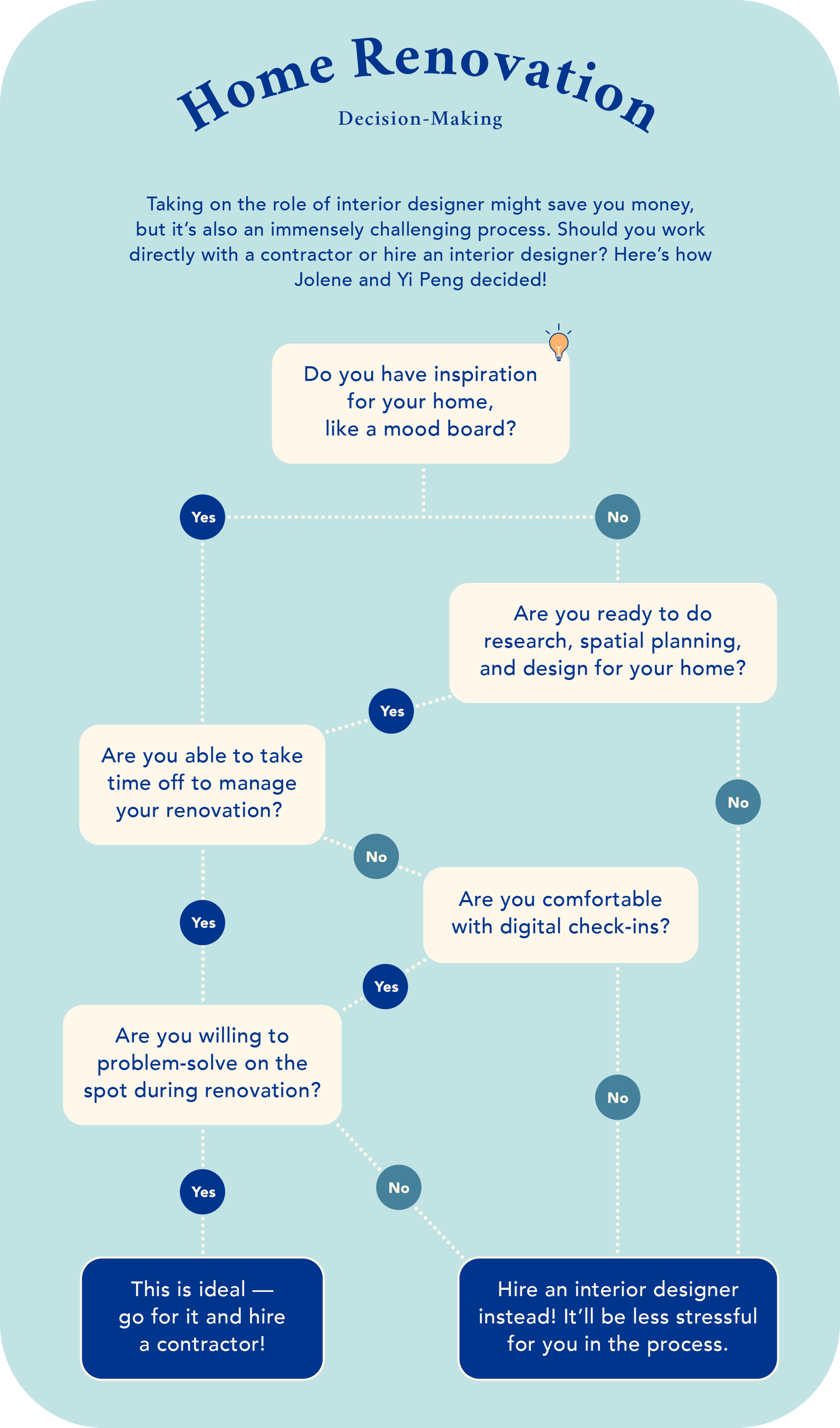 Do you have any tips for new homeowners who are looking to work directly with a contractor?
I think time is one of the main factors — you have to be able to carve out time to project manage your renovation and the contractors. It's hectic as there's a lot of coordination, planning, and liaison work, so I guess it's not for everyone. It helped that I was able to take some time off to manage the renovation.
Working without an interior designer also involves a healthy dose of visualisation, spatial planning, and design to envision how your space will look all done up — even if it's completely in rubble and ruins.
By working with contractors directly, we saved a huge amount for our renovation. One caveat though: contractors don't really provide design-focused solutions when renovation problems occur. So you need to do plenty of research, fumble around for alternatives, and figure it out on your own.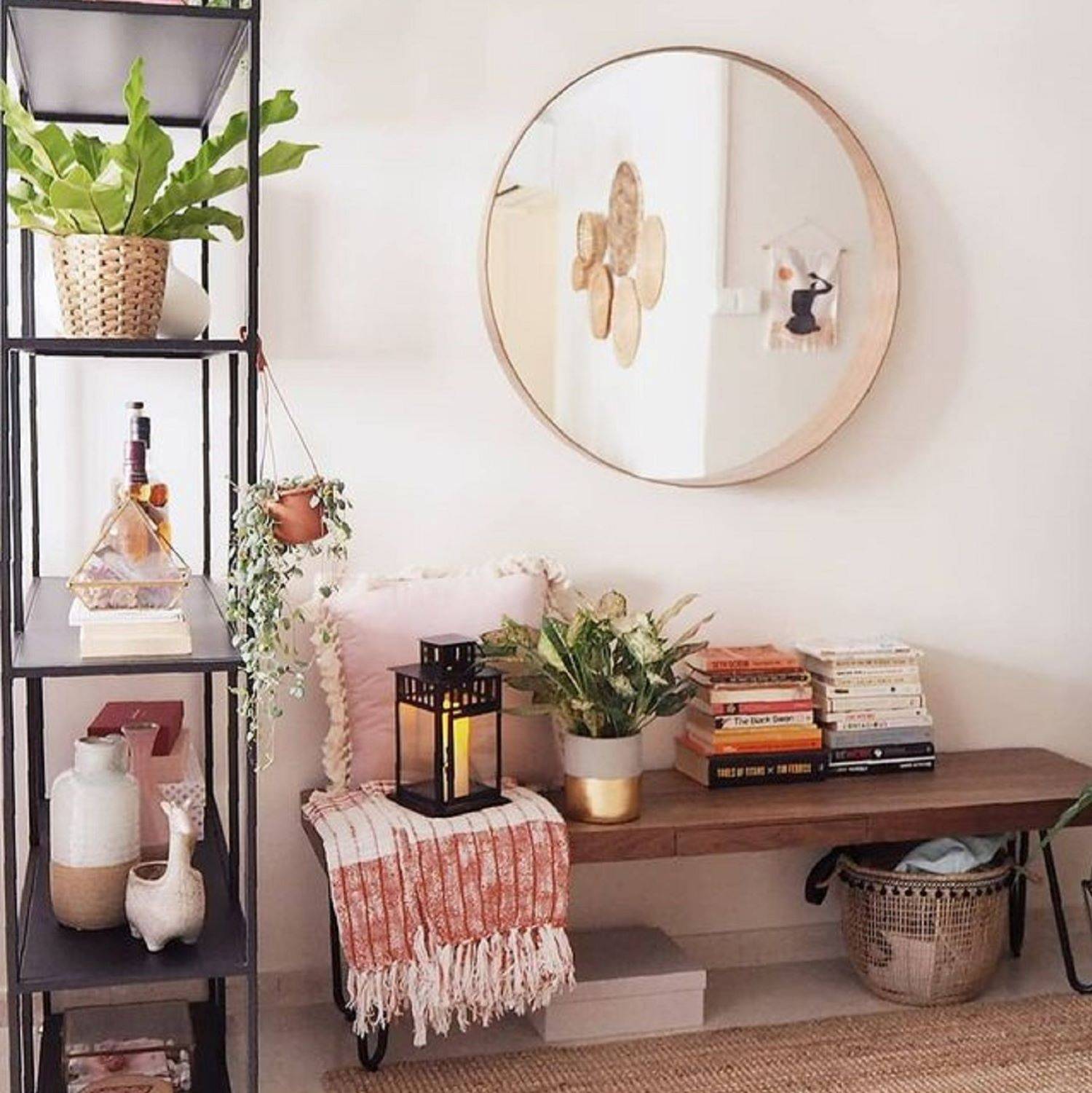 The entryway of Jolene and Yi Peng's home. Not only is their bench used for storage and shoe-wearing, it doubles up as extra seating when guests come over! Image c/o Jolene and Yi Peng.
Aside from managing your home renovation, you also transformed your spare room into a home office last year!
Yeah, that was fun! We wanted to keep options open for our spare room, so we knew we didn't want anything built in. It was important for us to have a space that would creatively inspire us, and we really wanted a home office as well.
We relied a lot on Pinterest to plan the look and layout of our home office. We also DIY-ed the pink confetti wall where our daybed sits! Turns out our timing couldn't have been better. A few months after we set up our home office, Circuit Breaker and WFH happened, and we were both thankful we had this lovely, dedicated space to work from.
The couple transformed their spare room into a home office to have a dedicated space in their house to work from and get inspired in. Image c/o Jolene and Yi Peng.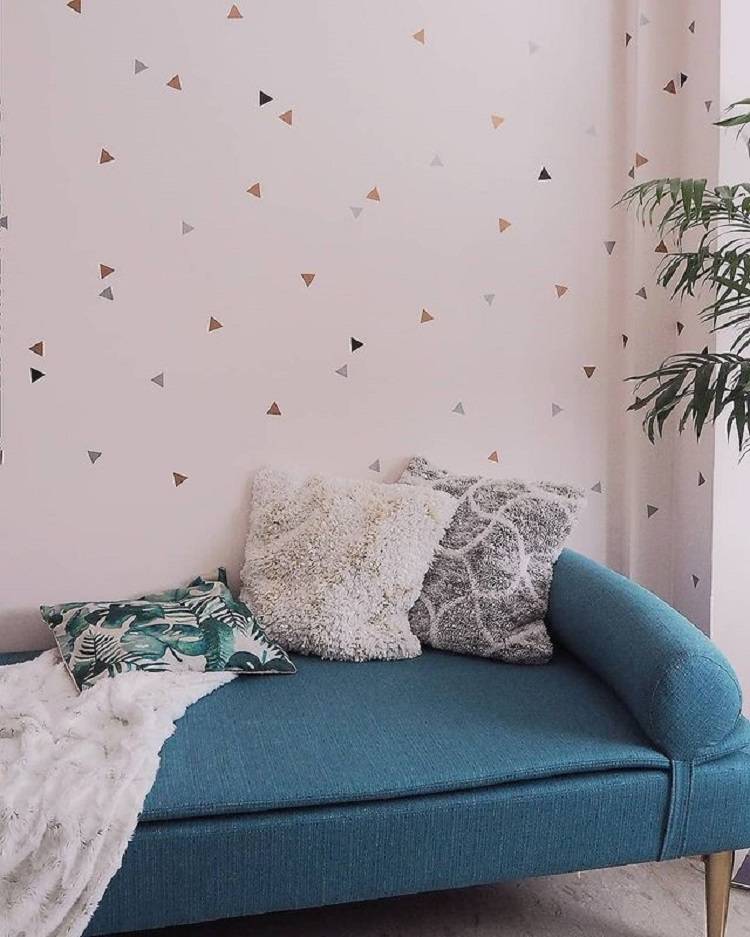 Jolene DIY-ed this pink confetti wall to add a pop of colour and sparkle to their home office, and also to give themselves a corner to take breaks. Image c/o Jolene and Yi Peng.
You've also created and bought many art pieces for your home. What advice do you have on decorating with art?
Art can really elevate and liven up a space. Sometimes it can also set the entire tone of the space. We have our large statement piece in raw strokes, backed on a simple canvas at our dining area — and that has really become quite a centrepiece in our home. We also carried the threads of pinks and greens from that artwork into the rest of the décor in the space so that there's a feeling of harmony throughout.
Start with a large statement piece that really speaks to you emotionally, or think about what kind of feeling you'd like to evoke and buy art accordingly. Is it to evoke thoughtfulness, spark inspiration and motivation, or to inject quirky good fun? Art is a pretty good way of self-expression, so don't be afraid to showcase what you love — boldly feature it in your home for that added bit of personality and fun!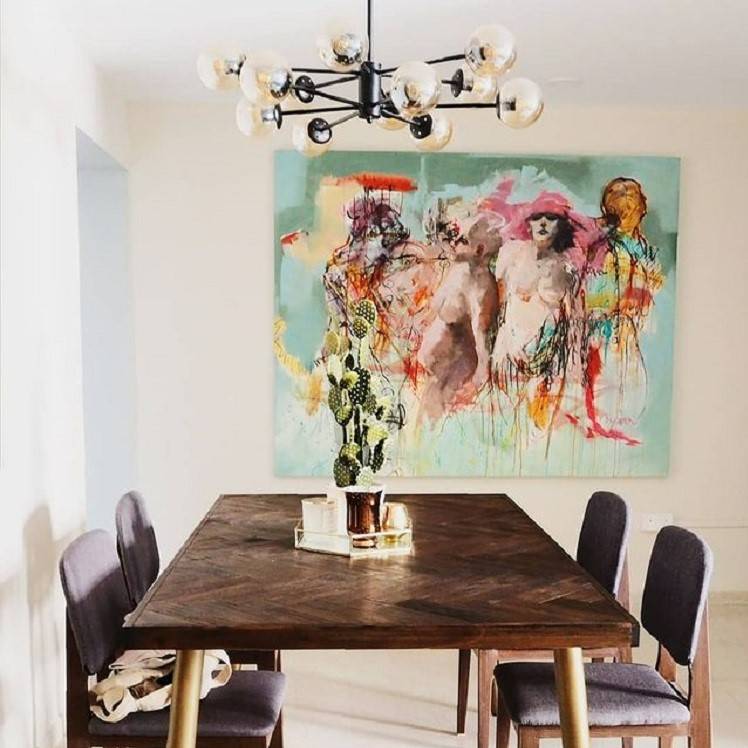 A large statement art piece hangs above Jolene and Yi Peng's dining area, acting as a centrepiece and providing visual interest. Image c/o Jolene and Yi Peng.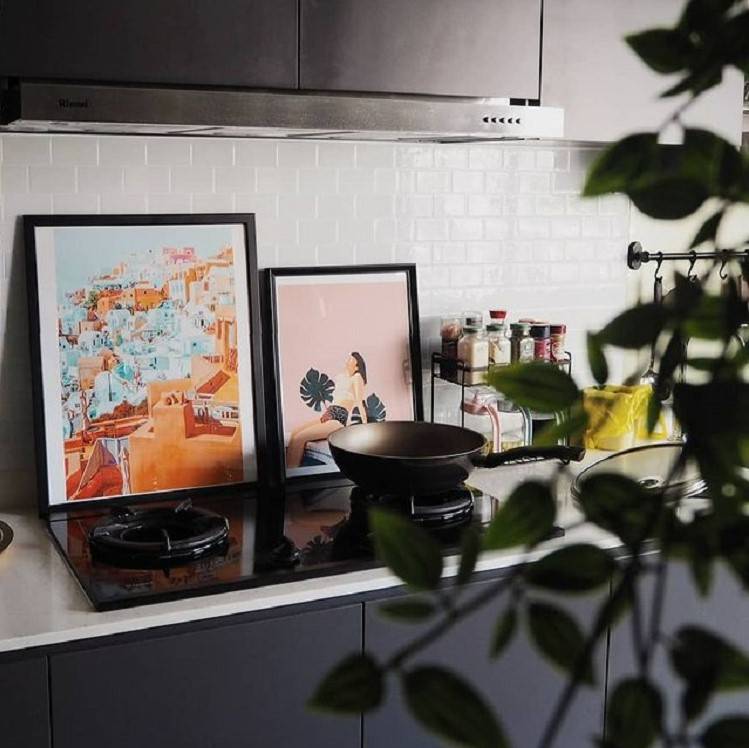 The couple also place art in other spaces in their home. Here, they've framed some art prints to display in their kitchen for pops of colour. Image c/o Jolene and Yi Peng.
---
All images courtesy of Jolene and Yi Peng. Follow their home journey on Instagram.
---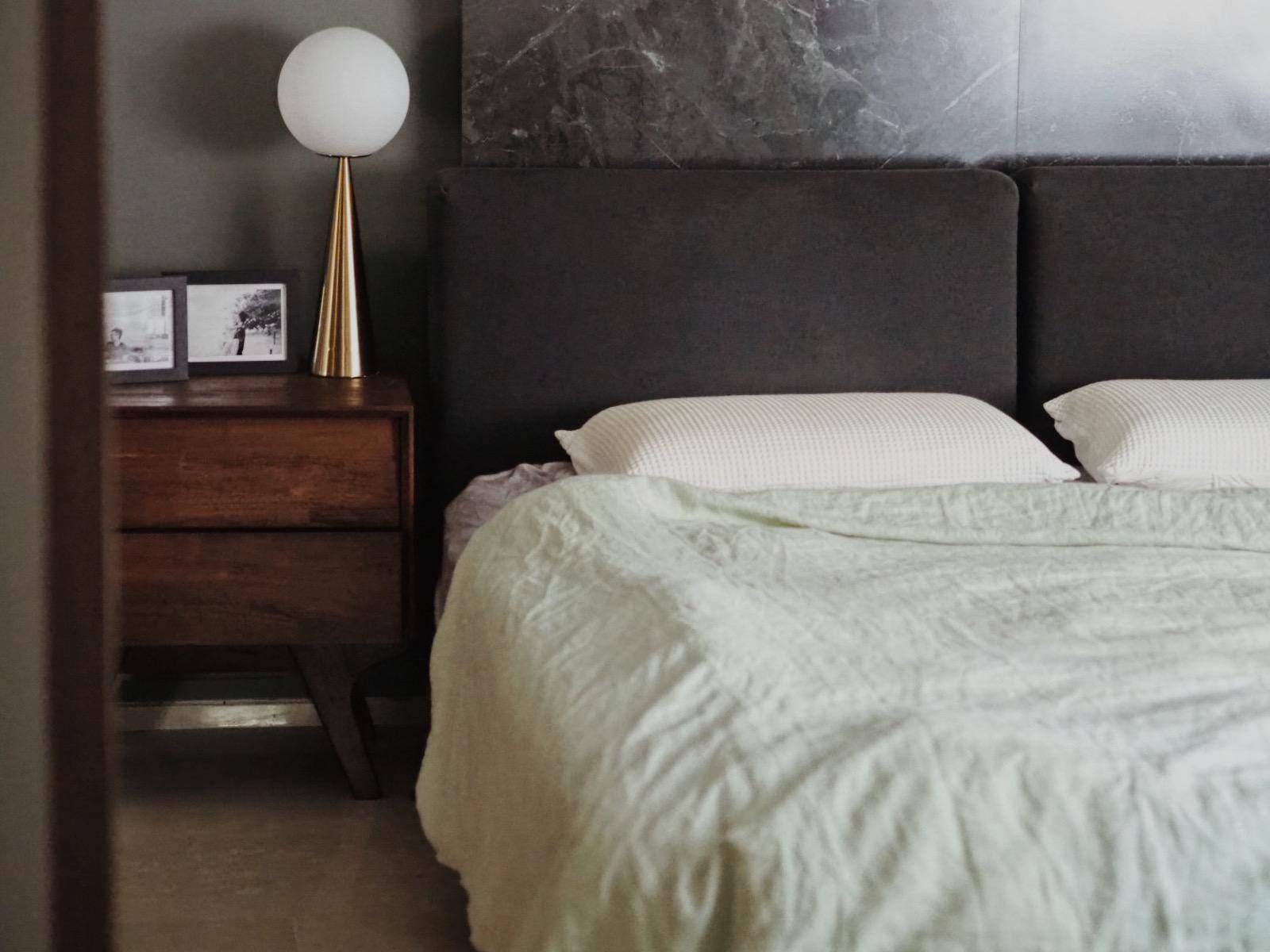 Sage Green Duvet Cover in French linen